2018 Events
June through August
Wedding receptions at the Academy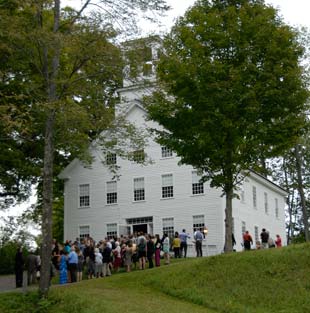 Our beautiful site in the lovely, well-preserved 19th century village of South Woodstock is available for lease for weddings and wedding receptions in a charming New England setting.
A wonderful older non-denominational church is across the street and is available for wedding ceremonies, if you prefer.
The Academy schoolroom seats many people and has a raised "stage" which is a central focus point and can be used for ceremonies. Our lawn is level and measures 140 feet by 100 feet; there is plenty of room for a tent and lots of parking space is available.
We are convenient to the Kedron Valley Inn, the Hyacinth House, and other lodging in South Woodstock, and we are a short drive from Woodstock and its many accommodations.
Contact Academy President Mary McCuaig for more information: email or call (802) 457-3779.
July 5
Opening Day at the Academy!
GMPA will present Julia Purdy and her lecture "Ashes & Pearls: The Saga of Potash in Early Vermont," an illustrated talk about how America's first industrial chemical shaped the landscape, early culture, and history of Vermont. Please be sure to join us!
September 7
Annual Meeting
Including program by Linda Radtke: "The Vermont Civil War Songbook" (a Vermont Humanities Council program hosted by the GMPA).
Please join us at 2:00 p.m.
GMPA's summer concerts:
The newmont military band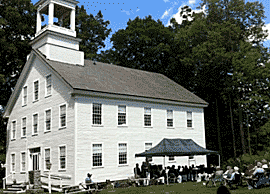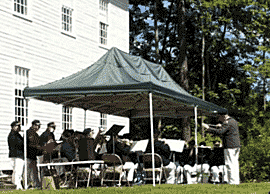 On the lawn of the Academy, music from the late 19th century!
Band members from Vermont and New Hampshire play rousing anthems using antique instruments. A large audience enjoyed the afternoon.
(Photos from 2010's Summer Concert courtesy of GMPA Board member Dale Kjerulff)
Book Release!
"made in South Woodstock, Vermont"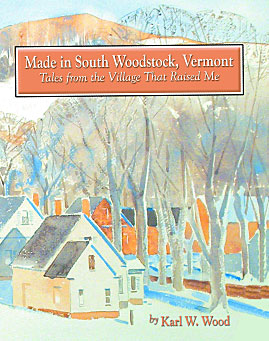 Authored by GMPA Board Member Karl Wood
On sale locally (contact us for outlets)...a great gift which also supports the Green Mountain Perkins Academy!
---
Karl Wood Pens Book, 200+ Years in the Making
by Paul Regan
Special to the "Vermont Standard"
"Karl marked his 50 years of Perkins Academy board membership just a few years ago and this November has completed his wonderfully revealing and entertaining manuscript "Made in South Woodstock, Vermont, Tales From the Village That Raised Me." This could be the perfect holiday gift for that Woodstock resident who thought they had everything!
"Anyone who has known Karl through the years or has spent time with him around the table at The South Woodstock Country Store is well aware of Karl's story-telling expertise. As Karl penned in the forward to his new manuscript, I could say I'm here in the same village where I grew up, but that is not really correct; South Woodstock, Vermont, and I have changed every day of the nearly eighty years we've been together." Karl went on to say, "It's been my good fortune to be the repository of a great deal of history: old family letters and journals, town records, and stories that I have heard (and overheard). This information has given insight, not only into those who came before me, but perhaps a better look into the world that I have occupied and will leave to those who follow me."
"As always, our mission at GMPA & HA is to educate by preserving the Academy building, its artifacts, personal papers, and records pertaining to the Academy, its students, and the South Woodstock community, of which Karl Wood, his family, and his ancestors have been such an integral part since the late 1770s."